Early morning Rituals turn the mental filter on
At any point in time, you have thousands of stimuli around you to perceive. When the 'monkey mind' is on, you might get overwhelmed at the number of things that draw your attention.
Meditation, especially in the morning, when the mind is fresh from a sound sleep and relatively clear of distractions, activates the mental spam filter.
This is also the best time to journal, plan your day ahead, express your gratitude and set your intentions.
As a result, you can stay more focused and mindful throughout the day and accomplish errands with greater efficacy.
Morning Meditation
You can practice Meditation whenever it's more convenient for you, but first thing in the morning is the best moment.
The amount of sustained attention we need to develop for longer meditation sessions comes with time and practice. As a beginner, meditating for 5-10′ a day would be enough for you. On the other hand, you should aim to daily practices. Daily practice is most helpful holistically.
Light some incense or a candle if you like, to set the mood.
After Morning Meditation, you can also perform some other rituals that will profoundly help you.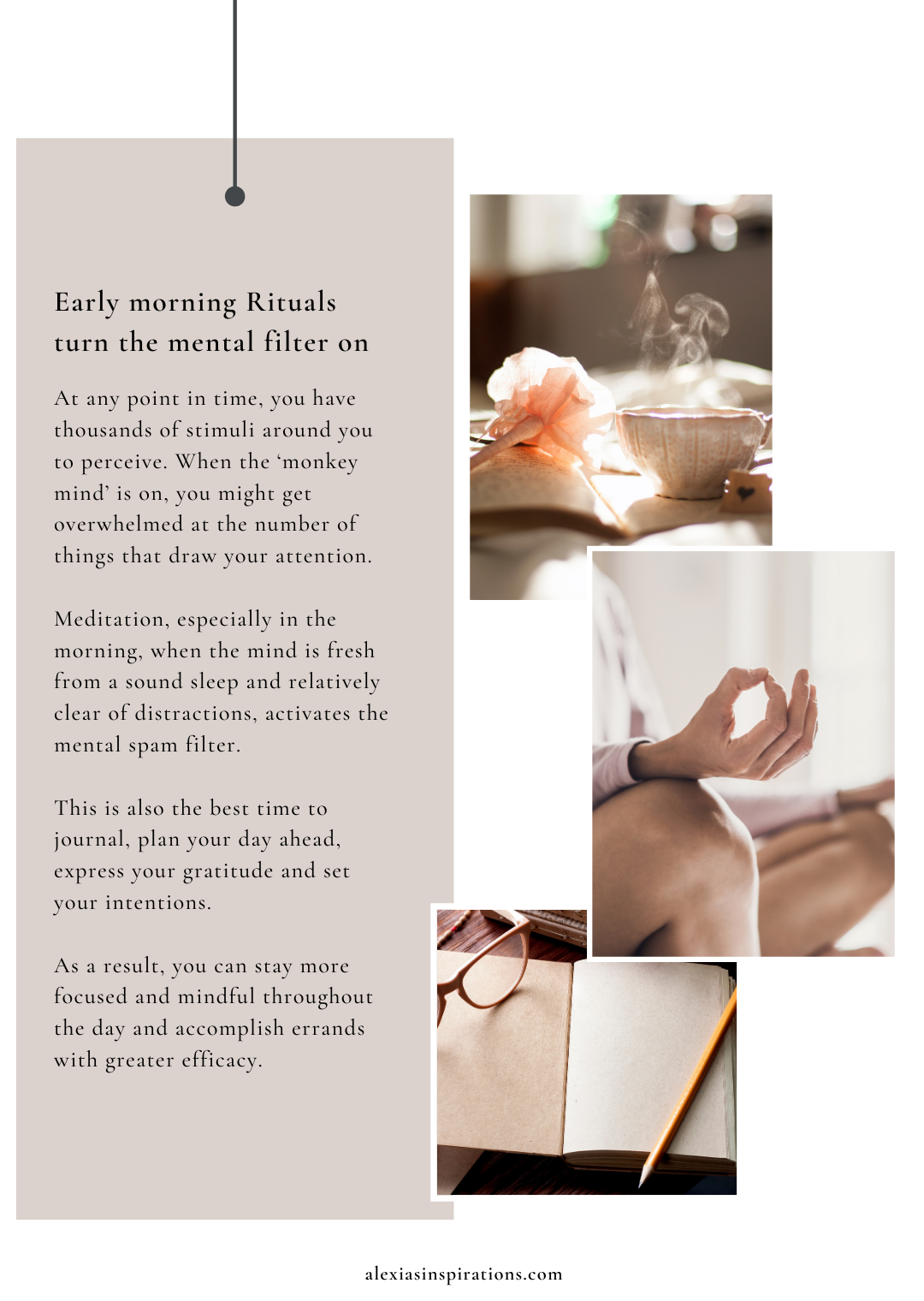 More ways to practice Mindfulness
Set your intention for the day
"Today, I will be or do … "
Throughout the day, check in with yourself. Pause, take a breath, and revisit your intention. You can even wear a bracelet and change hands whenever you catch yourself acting differently than intended.
Notice, as you become more and more conscious of your intentions for each day, how the quality of your communications, relationships, and mood shifts.
Write your thoughts
After Meditation you may find yourself in almost a trance-like state. This is the best time to write down all the things that come to mind.
You can also plan your day ahead, a habit that will help you organize and lessen your stress.
Express your gratitude
Don't forget to express your gratitude; focusing on the good things in your life, primes your day to positive thoughts, elevates your energy and helps you attract more good things.
Learn more about Meditation with our
FREE 5-DAY MEDITATION CHALLENGE